Courses
Masters In Cosmetology
Course Duration:
2 years | 1278 hours
Minimum Qualification:
Graduation or above
Level Type:
OMQ34-Level 4
Course Content:
Beauty Therapy – Level I to Level III
Hair Designing – Level I to Level IV
Makeup – Level I to Level IV
Nail Art – Level I
Nail Extensions – Level III & IV
Mehndi Application
Body Therapy – Level III
Spa Therapy – Level III
Career Opportunities:
The Masters in Cosmetology is a comprehensive cosmetology course that nurtures you as a thorough cosmetologist who is a trained professional in the vibrant branches of the beauty and wellness domain.
There's no dearth of high-paying jobs for cosmetologists in derma clinics, spa centres, nail studios, hair salons and beauty parlours
Candidates holding a Master's in Cosmetology can establish themselves as independent makeup artists as well as beauty consultants
Best Suited For:
This is one of the finest cosmetology courses in India Budding beauticians who want to reinvent their career in the most rewarding beauty industry must enrol in the Masters in Cosmetology course.
Course Details:
There's a lot that goes into the making of a cosmetologist
With Orane International Masters in Cosmetology course, you will be preparing yourself for a reputable, high-growth and highly rewarding career in the booming global beauty industry
A cosmetologist follows a holistic approach to attaining beauty in his/her clients.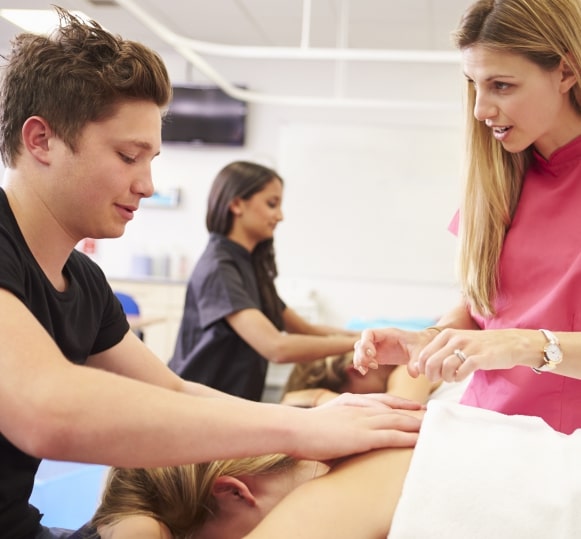 Things You Will Learn!
During your two-year Masters in Cosmetology course, you will be trained on the physiology and histology of skin, skin analysis, face analysis, skin diseases and disorders, anatomy of hair and scalp, hair disorders, understanding face shapes, nail shapes, the human skeleton system, muscular system, lymphatic system, nutrition and so on
Under the beauty segment of this beauty course, you'll master the art of basic and advanced facials, manicures, pedicures, hair removal, and various beauty treatments, including:

Facial Galvanic – Disincrustation
Facial Galvanic – Ionization
Vacuum Suction & Infra-red lamp
High frequency – Direct & Indirect
Facial faradic + Thermo herb
Ultrasonic
Glycolic Chemical Peels
Tri Chloro-Acetic Acid Chemical Peels

In the hair segment, the course will train you on thermal styling, hair colouring techniques, media hairstyles, hairdos, hair extensions, keratin & flex treatments, straight therapy/silk therapy – rebonding/smoothening (male), besides the quintessential Indian head massage and herbal treatments
You will also gain hands-on practise on cosmetic professional hair treatments for dandruff and hair loss, as well as how to give the best hair spa to your clients.
You will be taught salon management and client record maintenance and handling
You don't need to go for a separate hair-cutting course, as you'll master over 30 different on-trend as well as conventional haircuts, including:

Uniform Layers
Graduation
Basic Concave
Long Shake
Razor
Multi Layers
Triangular Graduation
Disconnected Layers
A-Line Bob (Female)
Round Textured Bob (Female)
Stepped Bob (Female)
Flat Graduation (Male)
Classic Stacker (Male)
Clipper Guard (Male)
Layers Square
Blended Elevation
High Graduation
Round / Diamond / Translucent Layering
Antea
Iren and many more

This course is a complete makeup course in itself, and in its makeup classes, you will learn advanced makeup techniques like face sculpting, creating a flawless base, and so on.
If you are Googling for searches like "pro-level makeup artist course near me" online, this course is perfect for you. By the time you complete the Masters in Cosmetology course, you will be a pro-makeup artist with expertise in the following makeup looks:

Glamour and Bollywood Makeup
Catwalk Makeup
Makeup for Black and White Photography
Retro Makeup
Fashion Editorial Makeup
Camouflage Makeup – Pigmentation/Blemishes – Scars – Vitiligo – Tattoo
Brides – Indian Traditional – Catholic Bride
Metallic Makeup
Yellow Makeup
Khaliji Makeup (Silicon Base)
Airbrush Makeup
5 types of Eye makeup and eyelash application
Red Carpet look
Media Makeup look
Fantasy
Cut, burn, bleeding
Modern Bridal Look
Bronze Tan look
Corrective Make-up (nose, eyes, lips)
Day Dew Natural look / glossy look
Day Party / Evening
Engagement / Shagun look
Reception look
Indian Ethnic Bridal look day/night and eyelash application
Groom Makeup

As a cosmetologist, you'll also master the latest techniques of nail art and nail extensions, besides learning how to add magic to client's hands with different mehndi styles
The Masters in Cosmetology course concludes with body therapy and spa therapy, wherein you will become one of the most reliable masseuses, nutritionists, and exercise experts with a thorough understanding of personal health and hygiene.
You'll gain practical as well as theoretical knowledge of body wraps, scrubs, polishing, Swedish massage, aromatherapy, reflexology, and potli massage, amongst various other beauty and spa treatments
To sum it up, this course is right up there among the best cosmetology courses in India. During the two years when you pursue this course, you will be transformed into a beauty professional who is an expert in not just one, two or three aspects of beauty, but the entire body, from superficial to skin deep
We'd Love To
Hear From You!
Find the course of your interest
Get in touch if you would like to have a course demo