Courses
Advanced Diploma In Pro Hair Designing
Course Duration:
20 Days | 124 Hours
Level Type:
ODQ31 – Level 4
Minimum Qualification:
Class 10th passed and above
Course Content:
Client Consultation
Body Language
Hair Cutting
Hair Cuts
Hair Coloring
Career Opportunities:
Elevate your career prospects and unleash your creative prowess with our comprehensive hair-designing course. Orane International Advanced Diploma in Pro-Hair Designing opens a plethora of avenues for hair professionals in the fashion and Bollywood arenas. Besides job opportunities in top beauty parlors and hair salons in the country and abroad, Did you know a barber's or hairdresser's job is among the highest-paying jobs in countries like the UK, US, and Canada?
Best Suited For:
The haircutting and styling course is best suited for hairdressers who have the basic knowledge of haircutting or coloring; however, they need to bring that professional finesse to their craft and take their career to the next level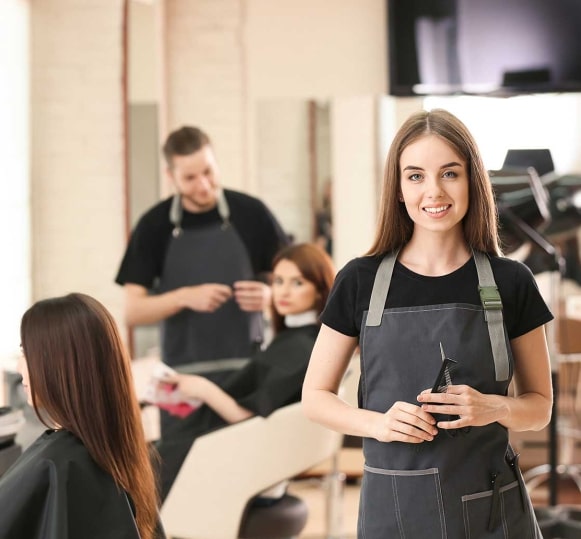 Course Details:
Can you imagine becoming a Pro-Hair designer in a month's time?
A hair designer who knows the nitty-gritty of hair hygiene and hair treatments, face shapes, and how different hairstyles, haircuts, and hair color suit the one in front of you
This course is a complete hair-cutting and hair-styling course that consists of the following:
Client Consultation: Master the art of effective communication and understand the nuances of client preferences to deliver personalized hair solutions.
Body Language: Learn how body language influences client interactions, creating a comfortable and professional atmosphere.
Hair Cutting Techniques: Dive into the core of hair cutting, exploring various styles and methods to craft impeccable haircuts.
Hair Coloring: With the help of renowned professional trainers, explore the world of hair coloring and enhance your creative side.
Hair Cuts: Acquire proficiency in a wide range of hair-cutting styles, from trendy male haircuts to classic and contemporary designs.
Hair Treatments: Discover the secrets to achieving luscious and healthy hair through treatments like rebonding, keratin, and more.
Things You Will Learn!
A hair professional who knows how to create hairdos that fetch 10/10 and all praise for his/her clients
With Orane Beauty Institute's Advanced Diploma in Pro-Hair Designing, it is possible for you to master your craft and bring professional subtlety to your hair designing techniques
The Advanced Diploma in Pro-Hair Designing is a level 4 course that begins with the theory of client consultation, knowledge of various hair styling tools and haircut techniques
You will be taught 12 top trending haircuts that include the following:

Layers Square
Blended Elevation
High Graduation
Round Layering
Diamond Layering
Translucent Layers
Antea
Iren
Diagonal Forward
Layered Bob
Graduated Bob
Trendy Male Haircuts

In this hair designing course, To transform you into a hair colour wizard, you will be introduced to the theory of hair colour techniques from the world's top hair colour brands, Schwarzkopf and L'oreal
While you will gain hands-on experience in full-head colouring techniques like 2D, 3D, 4D colouring, creative paneling, and full-head multiple streaks colouring, you will also be trained on creative colouring techniques mentioned below:

Horse Shoe Section
Half Moon
Star Section
Diamond Section
Flicks
Key Hole Section
Round Paneling
Hair treatments have taken the center stage at hair salons or beauty parlours through ot India and globally as well
During your Advanced Diploma in Pro-Hair Designing at Orane International, you will learn about hair textures, straight therapy/silk therapy, rebonding/smoothening (male) apart from keratin treatment and flex treatment
The hair course will also cover media hairstyles and on-trend hair extensions
At Orane International, you will gain an edge over your peers with practical and theoretical knowledge imparted by industry-trained faculty in a world-class infrastructure with the latest haircare and styling tools/products
The hair-cutting and styling course curriculum ensures professional skills development for the trainees, which can give them the confidence to advance in their careers as professional hair designers or experts.
We'd Love To
Hear From You!
Find the course of your interest
Get in touch if you would like to have a course demo