Courses
Diploma In Hair Designing
Course Duration:
5 Months | 250 Hour
Level Type:
ODQ4 – Level 3
Minimum Qualification:
Class 10th passed and above
Course Content:
Basic – Level I
Basic – Level II
Advance – Level III
Career Opportunities:
Embarking on a transformative journey, the Diploma in Hair Designing course at Orane International School of Hair, Skin, and Makeup opens doors to a world of opportunities in the realm of hair styling. This comprehensive hair designing course not only imparts expert hair-cutting training but also nurtures your creativity and skills in hair styling.
Enrolling in our hair styling course allows you to refine your skills and comprehensively understand various hair-cutting techniques. From precision cuts to creative styling, our curriculum is designed to empower you with the versatility required in today's competitive hair styling industry. Whether passionate about classic cuts or avant-garde designs, our hair-cutting course is the perfect platform to hone your craft and achieve your aspirations.
Our dedicated instructors ensure that every aspect of our hair-cutting and styling course is tailored to perfection. They mentor you through each technique, providing insights into the latest trends in the industry. As you progress, you'll be equipped with the proficiency to embark on a successful career, whether at esteemed hair salons, as a freelance hair designer, or even as an entrepreneur managing your own hair styling classes
Best Suited For:
A Diploma in Hair Designing course is the best training opportunity for hairdressers to stay abreast in their profession as well as for budding hairstylists who want to launch their careers in the most professional way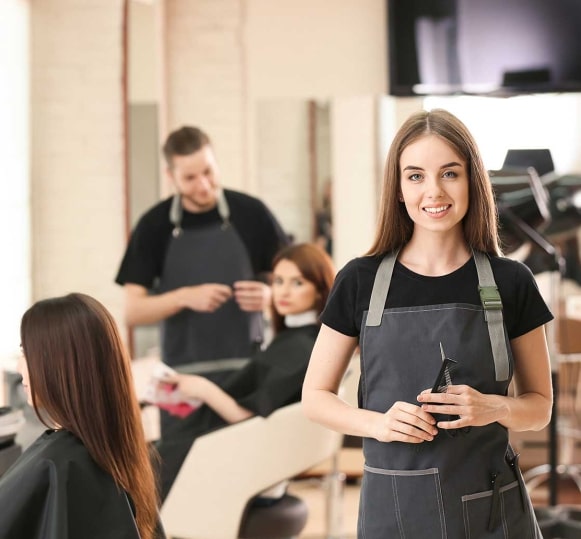 Course Details:
A hair designer's primary job is to creatively play around with the crowning glory aka hair, of clients and make them look gorgeous, attractive and powerful in their own style
A Diploma in Hair Designing at Orane International empowers you with on-trend and contemporary hairstyles, haircuts and hair treatments while instilling the creativity that challenges the hairdresser in you every single day
Acquire unmatchable skills with the beauty education leader Orane International and pave way for a highly rewarding career by learning from industry experts in a state-of-the-art salon setting with world-class hair styling tools and products
Things You Will Learn!
The level 3 Diploma in Hair Designing course begins with an introduction to hairdressing, making you aware of hygiene, sanitation & sterilization; health, safety, hazards, and risk; and familiarizing you with various tools that will be used in the daily course of work
You will be introduced to the anatomy of hair and scalp, various hair disorders, and the basics of shampoo and conditioning, sectioning, and Indian head massage
Gradually, during the hair styling classes of this course,s in-demand thermal styling techniques like ironing, crimping, tonging, blow-drying, hot rollers, velcro rollers setting, and waving, besides hair straightening, will be introduced and taught.
You'll get hands-on involvement and training on over 25 different haircuts, including:

Uniform Layers
Graduation
Basic Concave
Long Shake
Razor
Triangular Graduation
Disconnected Layers
A-Line Bob (Female)
Round Textured Bob (Female)
Stepped Bob (Female)
Flat Graduation (Male)
Classic Stacker (Male)
Clipper Guard (Male)
Straight Cut
U Cut
V Cut
Hair Trimming
Removing Split Ends
Basic Layer
Feather
Reverse Graduation
Blunt Cut (Baby Girl)
Basic Bob Cut (Female)
Scissors Over Comb (Basic Male Cut)

Coming to hair care, you will acquire in-depth knowledge of herbal treatment, professional deep conditioning, and cosmetic professional treatments for dandruff and hair loss, as well as hair spa
You'll also learn the professional nitty-gritty of the art of hair coloring, starting from basic knowledge of colouring, colour wheel and global colouring with the base colour, and moving on to advance knowledge of-

Colouring
Global colouring with fashion colour
Female streaking – weaving/slice/chunk/tipping /duo
Male streaking – frosting /foil/freehand

While hair colouring is the most in-demand thing with fashionistas, as a hairdresser course student, you'll also come across patrons of henna but worry not, as we've got you covered with professional head henna application methodology
Over 30 hairstyles will be demonstrated and taught to you, including braids, hair buns, font styles, and open hairstyles
Besides, you'll also gain a deeper understanding of how to develop a professional image of yourself, salon management, client records, and analyzing sheets, as well as preparation and maintenance of the work area
We'd Love To
Hear From You!
Find the course of your interest
Get in touch if you would like to have a course demo